CHICAGO KIDS BIRTHDAY PARTY MAGICIAN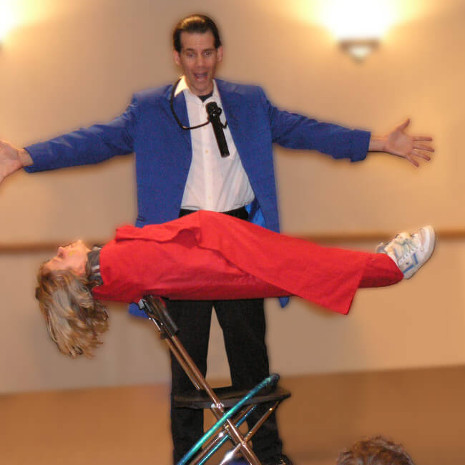 Top-rated Comedic Conjurer & Chicago Birthday Party Magician for Kids
(and kids at heart)!
A full-time professional performer, trained in theater, comedy and improvisation, will make adult's or children's birthday celebrations a truly memorable occasion for family and friends, with a performance that features impressive magic tricks and illusions, plenty of humor, and lots of audience participation!
One of the best local Chicago magicians for adults, children, and family entertainment, he is an experienced professional, bringing magical performances to the city and all Illinois suburbs for 25+ years.
This year, make your child's birthday wishes come true, or evoke childlike wonder at any age celebration. Give the gift of magic and ensure a genuinely "Happy Birthday" every one!
With Different Magic Tricks Depending on the Age-Range of the audience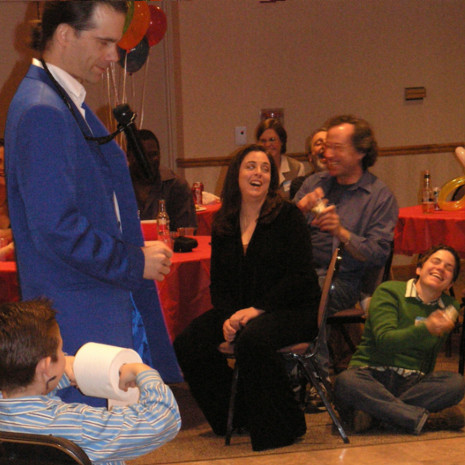 All Chicago area Adult's & Children's Birthday Performances Include:
Marvelous Magic
All birthday entertainment programs are jam-packed with impressive sleight of hand, incredible mind-reading, and many impossible magical moments!
Full Group Participation
All birthday party magic shows include lots of audience interaction, giving friends and family a chance to get involved and join in on the fun!
Side-splitting Comedy
Every birthday performance is loaded amusing entertainment, from humorous pranks and hilarious tricks, to comic stunts and funny surprises, that will have everybody laughing and having fun!
Chicago Birthday Child or Adult Helps Magician Make Magic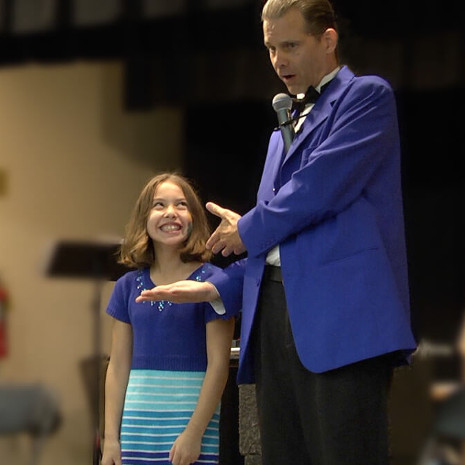 The Birthday Boy or Girl (or Teen or Adult) will get many opportunities to help with the most important magic tricks. Brothers and/or Sisters (or Cousins) can also be invited to get involved in act!
Chicago Birthday Magic Show for Kids & Adults Can Include These Fantastic Feats:
Upon request, any or all of the following Magic Acts can be included in (or excluded from) the Birthday Party entertainment
CLAIRA THE CLAIRVOYANT DUCK
The party guests, both kids and adults, will roar with laughter and grin 'til it hurts. Claira writes with a crayon in her beak. She can accurately guess the age of the birthday boy or girl, and everything else the audience is thinking!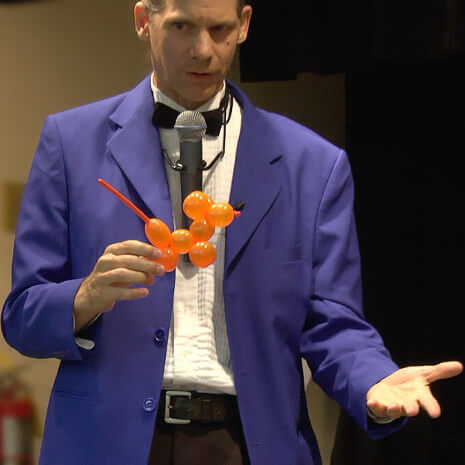 DOG-GONE!
The Birthday Child (or Adult) receives a special present from the Magician. A custom balloon animal that can do tricks... not Magic Tricks like a magician, but Dog Tricks, like a dog. It can "sit up", it can "roll over", etc. And a very funny surprise ending that will have everyone laughing and clapping!
CRIME FIGHTERS V.S. SUPER VILLIANS
An assistant from the audience picks out a favorite crime fighter. The comedy magician magically changes into this favorite crime fighter! This is an hysterical and astounding mentalism routine that is perfect for birthday celebrations of all ages!
COMEDY ARM BOX
An adult (or big kid) is "volunteered" to help the magician with this silly visual illusion!
COMEDY BIRTHDAY GIFT SURPRISE
The magician invites the guest of honor (birthday child, teen or adult) to choose a number card 1 though 6, for a special surprise birthday gift! The magician reveals the gift behind the chosen number card. It says "KISS". The magician gives the guest of honor a chocolate candy "KISS", then reveals that all of the other cards say "$100".
"BIRTHDAY CARD" CARD TRICK
A card is chosen by the "guest of honor" and shuffled back into the pack. The magician displays his home-made card-catcher. The birthday celebrant is asked to toss the cards toward the magician. As the cards cascade down, the magician plunges the card-catcher into the shower of cards. The chosen card is caught in the card-catcher!
FLOATING IN AIR!*
The Birthday Child is given the opportunity to perform the FLOATING IN AIR! This is a once-in-a-lifetime experience they will remember for years to come!
*Certain weight limitations apply.
Other available Tricks and Illusions
vary depending on the Age of the Kids, Teens, or Adults in the Audience.
PULLING HALF DOLLARS FROM KID'S EARS
A great way to get the show started! The magician collects a small "admission fee" from each audience member, pulling half dollar coins from the ears of each party guest! Kids love it!
THE FAMOUS "ROPE TRICK"
The famous rope trick is a favorite of magicians and audiences alike! In this HILARIOUS audience participation act, the performer calls up a volunteer on stage to help with a truly magical effect. An ordinary rope does some amazingly unexpected and impossible things!
DISECTO
The magician brings out a peculiar-looking cutting instrument. Explaining that he is going to test the courage of one of his spectators, he asks for the help of a brave volunteer!
Additional Chicago Birthday Party Entertainment Services for Kids
Include one or more of these additional services for a truly special birthday celebration
Balloon Sculpting
After the magic show, the magician makes each child a colorful balloon sculpture of their choice. From Amazing Animals to Humorous Hats and Splashy Accessories, each child will receive a special balloon sculpture of their choice.
Teach A Trick
After the magic show, the magician teaches a magic trick that the kids* get to keep as a souvenir! They'll have fun fooling their friends and family. You'll be amazed at what they'll learn to do! *Recommended for children ages 6 & Up.
Chicago Birthday Party Magic Shows
Magical Entertainment that's FUN for Kids of ALL ages!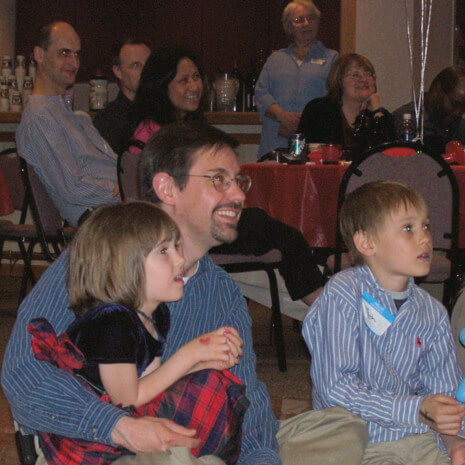 FAMILY BIRTHDAY PARTIES (ALL AGES)
Performing energetic and interactive magic shows, fun for the entire family! Whether it's a first birthday celebration, a sweet 16, or an 80th birth date anniversary, this is guaranteed to amuse and amaze!
4-5 YEAR OLD BIRTHDAY
All of the kids help the Magician make the magic happen in this entertaining and captivating performance jam-packed with lots of colorful, interactive magic tricks, loads of laughs and birthday wishes!
6-8 YEAR OLD PARTY
This high-energy, action-packed birthday bash magic show is filled with fun Magic and Comedy and is guaranteed to get all of the party guests involved and laughing from start to finish!
9-12 YEAR OLD BIRTHDAY
The magician involves all of your invited party guests, friends and family, in this dynamic, fun-filled performance featuring great acts of magic, comedy fun, and mind-blowing mind-reading!
TEEN PARTIES PERFORMER
A fast-paced magic show with comedy, lots of audience interaction, amazing magic tricks and illusions, mind reading and surprising stunts, designed to ensure your teen party guests are fully entertained!
ADULT BIRTHDAY PARTY MAGICIAN
An interactive performance of mind-boggling magical illusions and comedic conjuring that includes skilled sleight of hand, clever psychological deception, and comedy mentalism and mind-reading!
Chicago Birthday Party Magic Show Venues
Top Places to host a Birthday Party Magic Show in and around the Chicago area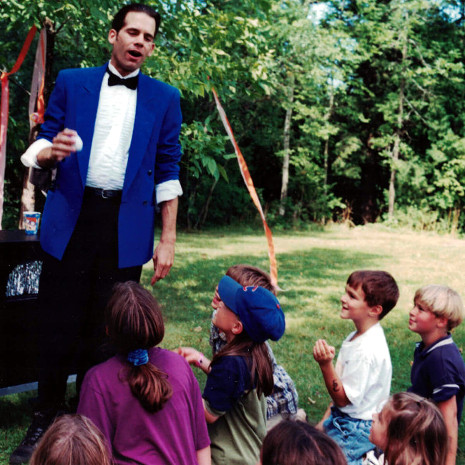 IN-HOME PARTY
The most popular location for a children's birthday party celebration is in the home. While the magician can perform in almost any room, the most common setting for an in-home performance is the living room or family room. All the magician needs is a wall (or fireplace, or TV) behind him and room for the children to sit on the floor. Adults can sit behind the kids, on chairs, couches, or even stand in the back of the room.
OTHER BIRTHDAY PARTY VENUES
Other great Chicago area venues in which to host your event include restaurants, private party rooms, banquet halls, park district facilities or community centers. Whatever the party spot, all the magician requires is a wall behind him (to ensure that no one is sitting behind him). It is best to have the kids seated up front, on the floor, or in chairs (not at tables). Adults can sit in chairs, behind the children or stand in the back of the room.
PARTY IN THE GREAT OUTDOORS?
Of course your Chicago magician can perform outdoors! To make an outdoor show the best that it can be, please have a shaded area large enough for the performer and audience, preferably with a hard surface for the magician to set up on, and a wall or fence behind him. Set up blankets or cushions on the ground for the children to sit on. Announce that the swimming pool, swing set, trampoline, bouncy house, etc., will be off limits during the magic show. And most importantly, have a plan B, to move the show inside in case of sudden rain.
If your goal is to ensure the best possible entertainment experience for your child's birthday, then consider bringing the children indoors for the magic show portion of the party. While the great outdoors is a great place for kids to run around and play, it is typically NOT the greatest place to have them sit and watch a magic show. Kids are easily distracted by anything from bees and other insects, to airplanes, to sun shining in their eyes.
Tips & Tricks to Make Your Chicago Birthday Party Magic Show a Success!
The following are recommendations, gleaned from years of experience as a professional birthday party magician, will help make your child's birthday magic show the best possible.
Choose a performance space
The best space for a birthday magic show is a usually a living room or family room. The magician can perform in front of the TV or fireplace. It is best to have the kids seated up front, on the floor (not on the sides or behind the magician).
Eliminate distractions from performance area
Children are easily distracted. With this in mind, please keep the performance area free of all possible distractions for the duration of the magic show.
NO TOYS
Any toys that cannot be removed from the performance area can be cover with sheets. Collect all hand-held toys (weapons, vehicles, electronic devices, magic wands, etc.) from children for the duration of the magic show. In addition to being distracting, the kids will need their hands free to participate.
NO FOOD, SNACKS or DRINKS
In addition to being a major distraction, messy hands and sticky fingers will prevent kids from being able to help the magician during the show.
NO PETS
Keep pets in a separate room during the magic show, as they can be distracting.
NO NOISE MAKERS
Noise makers are great for New Year's Eve, but not for birthday party magic shows.
Allow time for late arrivals
Starting the magic show at least 30 minutes after the birthday party begins allows plenty of time for all guests to arrive. Or, you can also have the show at the end of the party.
Making Birthdays Magical
in Chicago and ALL Suburbs