CHICAGO CORPORATE MAGICIAN
Fun Corporate Magician Makes Business Events Magic
Corporate Comedy Conjuror and Company Event Entertainer uses his skills to magically transform you company's events into unique magical experiences. With a background that includes training in theater at Columbia College and improvisational comedy at Chicago's famed Second City, think of him as a combination of Jim Carrey and Penn & Teller. He's mastered the art of bringing laughter, amazement and fun to business functions of all types and sizes.
Whether performing spellbinding
Close-up Magic & Mind Reading
, for a few guests at a time, or his marvelous
Mentalism & Magic Show
before an audience of hundreds, his High-energy, Action-packed performances incorporate amazing magic, clean comedy, and lots of audience participation.
He is a consummate performer with over 27 years of experience entertaining many of the top corporations, organizations and businesses throughout the Chicago area. His resume includes notable clients such as the Art Institute of Chicago, the Chicago Bulls, the Field Museum, Harris Bank, Motorola, and more.
Corporate Performance Options
Interactive Entertainment Services For Your Next Company Event



COMEDY MAGIC & MIND READING SHOW
Amazing Magic, Mentalism, Clean Comedy & Audience Participation
In this entertaining
Stage Magic Act
or
Stand-up Floor Magic Show
your personal Corporate Conjuror engages audiences with skilled sleight-of-hand, eye-popping visual illusion, incredible mind-reading and other seemingly impossible feats.
All Shows are Jam-packed with:
Amazing Mentalism & Magic that boggles the mind!
Audience Participation that gets your guests into the act!
Clean Comedy that keeps everyone laughing!
Incorporating a lifetime background in magic, theater and comedy improvisation ensures each show is a "one of a kind" performance that is guaranteed to amaze and amuse audiences of all ages.
Your guests are become the key players in the Fun as:
"The Mind-Reading Goose"
Reads Spectators Minds! (Ridiculous & Incredible)
"Slice of Hand"
An Audience Member's Hand is visually Removed from their Arm!
"Fantasy Magician"
A Volunteer is Transformed into a Magician and Performs Amazingly Funny Magic!
"Heroes & Villains"
The Magician is magically Transformed into a Super Hero chosen by the audience!
"Not-So-Straight" Jacket Escape
A Great Escape Act that will have everyone Laughing & Amazed!
"The World's Most Dangerous Card Trick"
(A Deck of Cards/An Audience Member/A Mousetrap)
PLUS MANY MORE MAGICAL SURPRISES!
Great for venues of any size: from the intimacy of a small room, to the largest of theaters, and everything in between. Whether it's a business conference, gala dinner, awards evening or client event, this show is a guaranteed hit that will keep your guests Engaged and Entertained!
Contact us today to check availability, get a price quote or book a show.
CORPORATE CLOSE-UP MAGIC & MIND-READING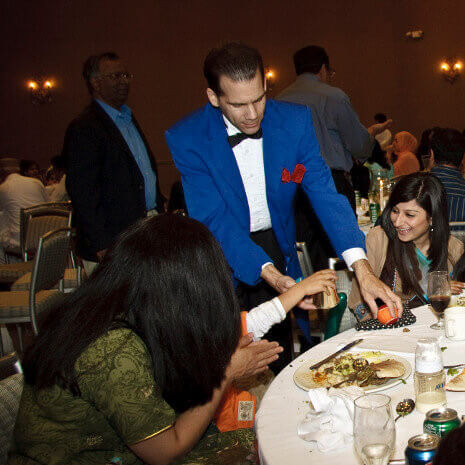 Miracles Up Close & Personal: Mere Inches Away from Your Guests
Close-up Magic
(also known as
Mix & Mingle Magic
or
Table To Table Magic
) is an intimate magical performance that takes place up close to the audience: right before their very eyes. The magician interacts directly with party guests who experience amazing magic and mind-reading up close and personal.
Close-up Magic
is the perfect entertainment choice to create an atmosphere of fun and excitement at any Chicago area company party, cocktail hour, hospitality suite, corporate social, or before or after dinner.
All Close-up Magical Performances Contain:
Marvelous Magic & Mind-Reading that mystifies and delights your guests!
Entertaining & Engaging Interaction that gets your guests directly involved in the fun!
Witty & Delightful Humor that creates a fun and festive party atmosphere!
Whether performing
Mix & Mingle Magic
or
Table To Table Magic
, for small groups of guests at a time, or a
Formal Close-up Show
before the whole gathering, Fabjance combines his skilled sleight-of-hand and mind-bending mentalism with clean comedy and audience interaction that will fill the room with laughter and gasps of amazement!
♣️ MIX & MINGLE MAGIC
For corporate events where guests will be mixing and mingling, your Chicago corporate magician will mix and mingle with them. Fabjance will move freely around your event, mixing and mingling with your guests, performing intimate 5-10 minute "micro" magic shows, for a few people at a time. This is a great choice for entertaining at larger company events (groups of 60 or more).
♦️ TABLE TO TABLE MAGIC
For events where guests will be seated at tables, your corporate conjurer will entertain each table with their own, mini magic show. Fabjance moves from table to table (typically before or after a meal), where guests are seated. He performs a 5-10 minute mini magic show at each table. This is an ideal entertainment option for larger business events (groups of 60 or more).
♠️ FORMAL CLOSE-UP MAGIC SHOW
Fabjance sets up a small table and your guests sit in chairs, up close, in front of the performance area. He performs a 30-45 minute close-up magic show for the entire group. This is an ideal performance option for smaller company gatherings (groups of 50 or fewer).
Contact us today to check availability, get a price quote or book a show.
CHICAGO TRADE SHOW MAGIC
At a Trade Show ... There's No Business That's Not in Show Business!
While they may not always be glamorous, trade shows are a mix of equal parts "show" and "business". On busy trade show floors, smart companies employ creativity, humor, and play to stand out from the crowd and deliver their message in a way that sticks.
While attracting an audience and holding their attention through the use of visual magic, and audience interaction, Fabjance delivers a "live" custom-scripted presentation that will help make your company exhibit a more engaging and interactive experience, guaranteed to
Attract a Crowd
,
Deliver Your Message
, and
Get More Leads
!
As a professional Chicago trade show magician and corporate presenter, Fabjance works closely with your team to develop a presentation that best illustrates and reinforces your key marketing messages and makes your company, and it's products and services, the star of the show!
At regular intervals throughout the day, Fabjance attracts a crowd and holds their attention through the use of visual magic and audience interaction, and delivers a "live" custom-scripted presentation highlighting your company's key product and service information. He then turns the audience over to your sales representatives for more information, a demo, or to answer questions, so they can take the next step.
Attract a Crowd. Deliver Your Message. Get More Leads. Guaranteed!
Get a free custom demo video by filling out the contact form at the bottom of the page.
MIND GAMES & MAGIC KEYNOTES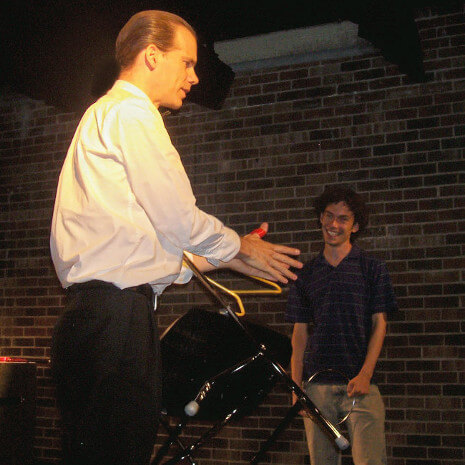 Sleights of Mind, Secrets of Magic & Other Everyday Self-Deceptions
In this enlightening and entertaining keynote combining mind-blowing magic, mind reading and a thought-provoking message, a professional magician reveals how our brains are led astray, and how misperception, in turn, can lead to thoughts, feelings and behaviors that can be detrimental to health, happiness and success, both in our businesses and in our personal lives.
Magic owes it's success simply to misunderstanding. What we call a magic show is nothing but a collection of different misperceptions. Magicians exploit natural vulnerabilities in the how the brain processes our perceptions. In our daily lives, we seldom question the accuracy of our perceptions. Without realizing it, we simply assume that the way we think is the way things really are. The technique of dramatizing perceptual errors through magic & illusion helps confirm that our perceptions are not as accurate as we may think.
In a fun and informative way,
Mind Games & Magic Keynotes
bring audiences to a new awareness of the power of perception and its influence on our lives, at home and in the workplace. The more aware we are of our perceptions and how they influence our choices, the more we can take responsibility for those perceptions, examine them and test them against reality, thereby creating a more accurate perspective from which to make improved choices in the future.
CORPORATE COMMUNICATION MAGIC TRAINING & CONSULTING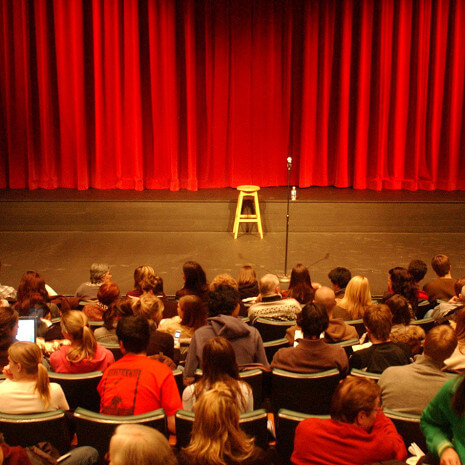 Let a Professional Magician Help You Communicate More Effectively
Use the power of Magic in your Social Media Marketing, Presentations, Meetings, Trade Shows & More!
Whether you are:
looking for an Ice-breaker to warm up participants in a Meeting, Training Class, Team Building Session,
looking to add an attention-getting "Opener" or memorable "Closer" to a Speech or Presentation,
looking for a unique & engaging hook for a Social Media campaign,
looking to Attract a crowd at your next Trade Show,
we can help add a little magic to your business's communications.
Contrary to popular belief, magic is much more than merely pulling rabbits out of hats or sawing someone in half. In fact, magic relies much more on psychology and communication skills than it does on trapdoors and skilled sleight-of-hand. You won't need a top hat, white rabbit or years of practice. With our expertise, and a tremendous selection of magic tricks & illusions, we can help you accomplish your specific messaging objectives.
Contact Us Today to discover how he can help you Deliver Your Message with a Touch of Magic.
CUSTOM CORPORATE MAGIC PROMOTIONAL ITEMS
Giveaway Items that Magically Deliver Your Corporate Message
These unique Promotional Items harness the Power of Magic to Communicate Your company, product or service Message in a Fun and Creative way.
Magic is a real "natural" for all types of promotions. When it comes to Attracting Attention and Engaging an audience, Magic Works Wonders. Our
Custom Magic Promotional Items
are an exclusive line of Visual and Interactive close-up magic giveaway items designed to Grab Attention and Make Your Message Memorable.
The
There Card Monte
is the most popular magic trick in our line of magical promo items. In effect, the center (red card) changes into one with your corporate logo/messaging on it. This is an amazing self-working card trick. The recipient will be performing this trick moments after receipt, showing your advertising message with each performance.
Contact Us Today for FREE Samples and Pricing.
Customize Your Corporate Entertainment
Make Your Company, People, Products & Services the "Star of the Show"
We can custom tailor any of our magical performances to incorporate your vision, branding, messaging or theme.
From product launch to conference, a gala dinner to an award ceremony, custom scripting and specially designed illusions will help you engage with your audience and share information about your products and services in a fun and informative way.
Contact Us to find out how Magic Can Make Your Event More Successful.
Serving Chicago & Northeast Illinois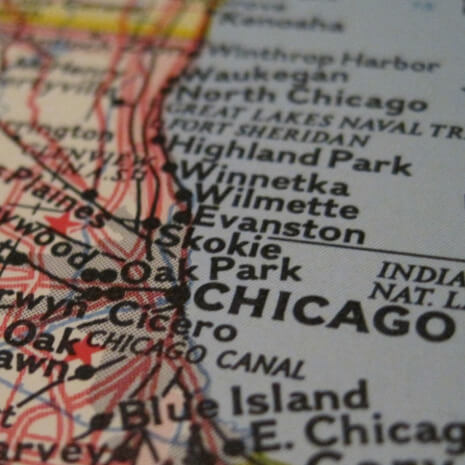 We Bring the Magic to You
From restaurants, hotels and party rooms to corporate event venues, conference centers, and private residences, we will bring the entertainment to any Chicago area venue.