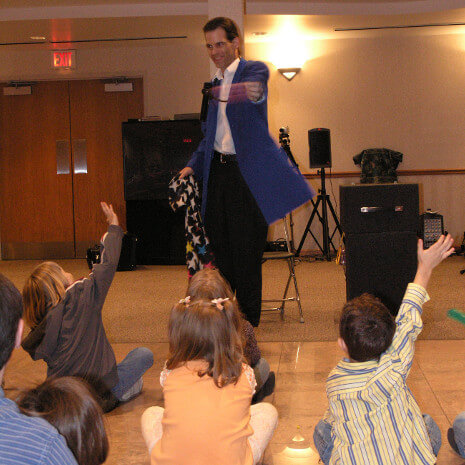 Awesome Kids Magician and Funny Guy
A Captivating and Enchanting children's performer with a background that includes Improvisational Comedy, Theater and a lifetime of Magic, his performances include a combination Marvelous Magic, Charming Comedy, and Total Audience Participation that keeps both Children & Adults Laughing and Amazed!
A Full-time Magical Entertainer, providing high-quality Children and Family entertainment services to Chicago area events for over three decades, he is among Illinois' most popular Magicians who counts the Chicago Children's Museum, McKids, and the University of Chicago Laboratory Schools among his clients.
He has the tricks and expertise to Make Your Special event a Magical and Memorable Success!
Amazing Magic Shows for Everyone
Entertaining Children's Magician (that even Tweens, Teens and Grown-ups will Enjoy!).



All performances contain:
Marvelous Magic Acts for children young and old (that even adults will love)!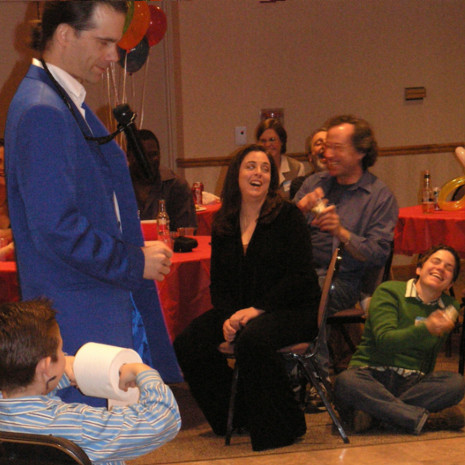 Terrific Magic Tricks
Each magic performance for children is filled with amazing sleight of hand, spectacular visual illusions, and astonishing mind-reading that will have everybody (both kids and adults) excited, astonished and amazed!
Fun Audience Interaction
Every kids magic show is packed with plenty participatory opportunities allowing friends and family (of all ages) to get involved in the act!
Humorous Happenings and Hilarious High-jinks
From start to finish, all children's magic performances are loaded with lots of comedy, from funny tricks and stunts, to hilarious gags and surprises, that will adults laughing and children giggling!
Featuring:
Magical Fun for Everyone!
PSYCHIC QUACKERY
Quackers the psychic knows what you're thinking, whether it's an animal, vegetable or mineral. The children will "Quack-up" then be amazed as she precisely predicts their answers to various funny questions!
MAGIC SKETCH PAD
The magician shows off his original artwork to the boys and girls. One of his sketches magically comes to life and is handed out to a lucky audience member, as a souvenir!
GOOD GUYS & BAD GUYS
The spectator chooses from a list of famous good guys and bad guys, from the movies and TV. The magician correctly predicts the choice by magically turning into the chosen good guy!
TOTALLY ARM-LESS!
A crazy visual illusion in which metal blades appear to penetrate a the arm of an audience member!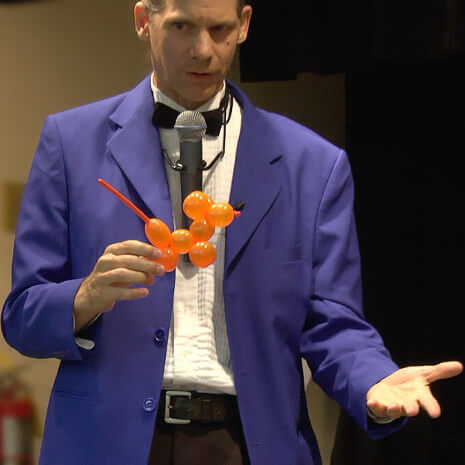 "POP" Goes the … Weasel?
An child from the audience receives a special gift … a balloon animal of their choice! After performing a number of silly stunts, the animal is "accidentally" destroyed, then magically restored!
WHO WANTS TO BE A MAGICIAN?
A young man or woman is invited to get in on the act by wearing a magician's outfit, and then entertain the audience with their own wacky magic performance.
"GUS" THE STUNT CHICKEN
A select card is lost in the deck, and then dropped into a chicken bucket. "Gus" the stunt chicken is waved over the bucket. The cards start flying out of the bucket, spinning, shooting up to TEN FEET into the air. "Gus" is thrust into the storm of cards, and to the delight of all, the select card is caught in his beak!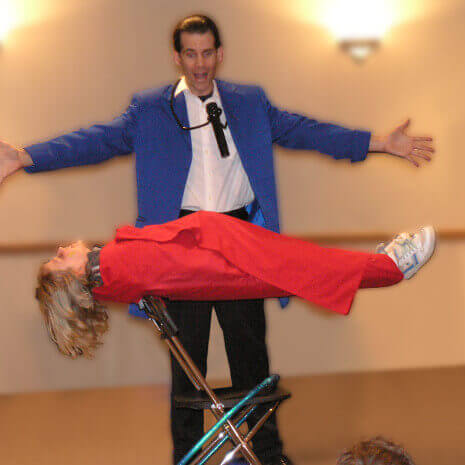 INCREDIBLE AERIAL SUSPENSION!*
A special SOMEONE is chosen to be SUSPENDED in the AIR! A rare experience for that special someone that will never be forgotten! This is great visual magic … so be sure to have your camera ready!
*Weight restrictions apply.
Other Magical Tricks & Illusions
vary depending on the age of the children.
WONDERFUL COIN BUCKET
The magician pulls coins from behind kids ears, ponytails and underarms!!
THE HYPNO WHEEL
No, the magician is not trying to hypnotize the children! But, due to this optical illusion, the boys and girls WILL believe the magician's head is GROWING, then SHRINKING!
THE COMEDY CHOPPER
A spectator's arm is placed in The Chopper. A large metal blade is pushed through the wrist. The spectator's hand is seen to fall into the bag below!
Types of Magic Performance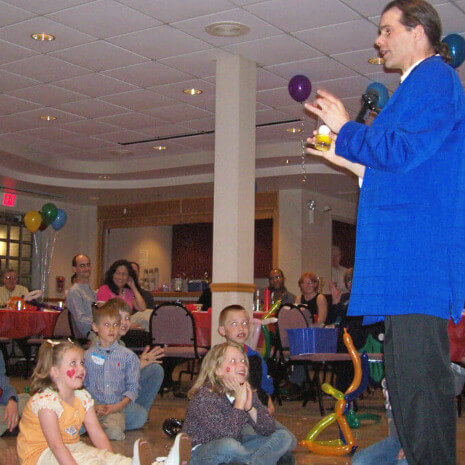 Stand-up Floor Magic Show
Performed with the magician typically standing on the same level as the audience, who are typically seated on the floor (or in chairs). This type of show can be performed anywhere from private homes to public event spaces such as park district fieldhouses, community centers, party rooms, banquet halls, school gyms, cafeterias, etc.
Stage or Platform Magic Act
Performed with the magician usually standing on a stage or platform raised above the audience, who are seated on chairs. This type of show can be performed anywhere with a stage or raised platform, including public theaters, auditoriums, gymnasiums, community recreation centers, banquet halls, park district facilities, etc.
Entertaining Chicago, IL & ALL Suburbs!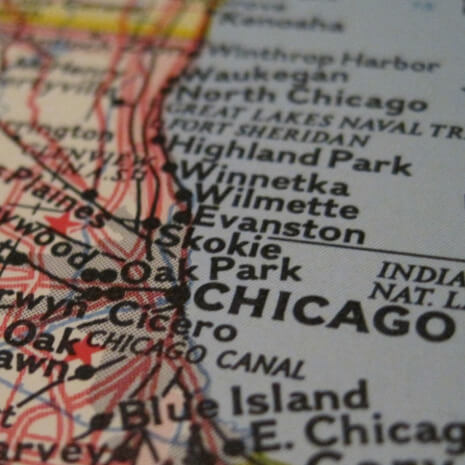 Performing at both children's and family events in the city of Chicago and the surrounding communities and neighborhoods of northern Illinois. Entertaining family and friends of all ages in private homes and public spaces from downtown Chicago to the far suburbs. We will bring the entertainment to you, anywhere, from Chicago's kid-friendly museums, hotels and restaurants to the Suburbs family-friendly banquet halls, private party rooms, community centers and country clubs. From daycares, preschools and elementary schools, to public libraries and park districts throughout the greater metropolitan area, We Bring the Magic to You!