Chicago Trade Show Magician
Fun & Engaging Chicago Trade Show Magician
One of Chicago's top trade show magicians uses the "tricks of his trade" to attract crowds, deliver your message and increase leads. With a lifetime of experience in magic, and a background that includes theater and improvisation, think of him as a combination of Penn & Teller and Jim Carrey. He is a talented performer whose warmth, professionalism and ability to engage audiences with his magic, showmanship and tasteful humor will make your next trade show a magical success.
Whether engaging a crowd at your trade show booth with his polished
Trade Show Magic
presentations, or entertaining convention VIPs at your hospitality suite or reception with his skilled
Close-up Magic
performances, his fun and entertaining performance style incorporates amazing magic, tasteful humor, and lots of audience interaction.
He is an accomplished professional with over three decades of experience working with many of Chicago's top businesses and organizations including the Art Institute of Chicago, the Chicago Bulls, DDB Chicago, and more!
Trade Show Magic Services
Interactive Entertainment Options



TRADE SHOW MAGIC PRESENTATIONS
Professional Magician Helps Business Put the "Show" in Trade Show
On busy trade show floors, jam-packed with vendors and exhibitors competing for attention, smart companies use creativity, humor and fun to engage attendees and deliver their message in a compelling way.
As a professional trade show magician, Fabjance's job is to use the "tricks of his trade" in the service of your company, giving you the competitive advantage when it comes to attracting crowds to your booth, building brand awareness, and getting the best possible return on your investment.
More than mere entertainment, trade show magic is designed to deliver your message in a engaging and memorable way. Through a mix of visual and interactive magic combined with a custom script that highlights your company's product and service information, each presentation is designed to make your company the "star of the show".
Engage. Inform. Amaze. Repeat.

Twice an hour, at regular intervals throughout the day, your professional trade show magician draws and holds a crowd as he skillfully delivers your sales message in an entertaining and informative presentation highlighting your company's product and services.

Each presentation links your message to powerful magic effects in a way that illustrates and reinforces your key marketing messages.

At the conclusion of each presentation, your magician hands the happy and informed audience over to your company representatives so that they can take the next step: with more information, a demo, to answer questions.
TRADE SHOW MAGIC GIVEAWAYS
Hand Out Your Message with a Touch of Magic (No Magician Required)
Delivering your message with magic makes a powerful impression. That's why magicians are used at trade fairs around the world as spokesmen. Now you can harness the power of magic (without a magician). You and your representatives can deliver your corporate messaging in a fun and creative way with these unique custom imprinted trade show magic giveaways.
The
There Card Monte
is the most popular magic trick in our line of magical trade show premiums. It entertains, amazes and, at the same time, delivers your message. In effect, the center (red card) changes into one with your corporate logo/messaging on it. This is a self-working card trick: there is no sleight-of-hand involved. The recipient will be performing this trick moments after receipt, showing your advertising message with each performance.
For optimal use of these fun and creative promotional premiums, your trade show magician/presenter can incorporate this giveaway item into their live performance. After delivering an entertaining and informative presentation that highlights your company's products and services, the magician/presenter shows everyone the secret of the trick. He then invites the audience members into the booth to connect with a company representative for more information, a demo, to answer questions, and scan their badge in exchange for your gift.
HOSPITALITY SUITE ENTERTAINMENT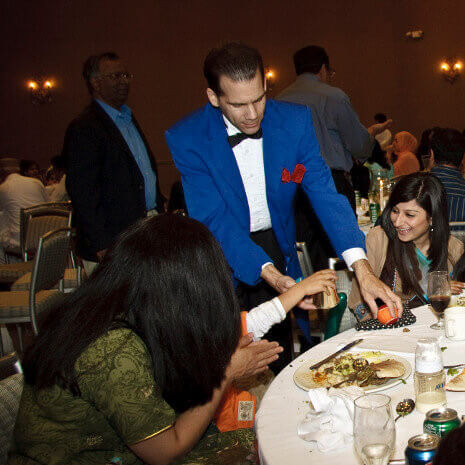 Beyond the Trade Show Floor …
Cocktail Receptions andHospitality Suites are ideal opportunities to connect and build relationships with existing clients and new prospects. Make your event truly memorable and stand out from the rest by offering your convention VIPs some special entertainment: up-close and personal
Close-up Magic
.
Close-up Magic
is a great ice-breaker for any business event and gets guests talking with each other and having fun. As guests come and go throughout the evening, your personal corporate conjurer engages them with skilled sleight-of-hand, interactive card tricks, baffling magic with borrowed objects, mind-boggling mentalism and other seemingly impossible feats.
Our
Close-up Magic
performances are a blend of warmth, tasteful humor and amazing magic that will have your guests laughing and amazed. Show your important clients, prospects and business partners how important they are to you and make this year's event unforgettable!
WHAT CLIENTS ARE SAYING
★★★★★

"Fabjance worked at our international trade show in Italy which included people from ten countries with different languages. He attracted and held people using his visual performance and, without an interpreter, helped make our event a success!"
Rand McNally
★★★★★

"On behalf of our client, House of Doolittle, we would like to express our appreciation for your stellar performance at their National Office Products Association trade show booth.

Naturally, when we planned their Sales Magic booth and promotion, we had hopes of attracting booth traffic and attendance to see their new line of products with your magic and illusions. The actual results were exciting, astonishing and far beyond our expectations.

Your ability to attract a large audience, work in the client's products, and rebate promotion with tricks and comic dialogue, did a masterful selling job for us. This was the most successful exhibit in Doolittle's history with record number of dealers registered."
North American Graphics
★★★★★

"X-traWeb, Inc. and I thank you so much for an excellent job performing during COMDEX. You wowed everyone with your great magic and clearly helped us steer traffic toward our booth."
"X-traWeb, Inc.
Welcome to Chicago, IL, a Top Trade Show, Exhibition & Convention Destination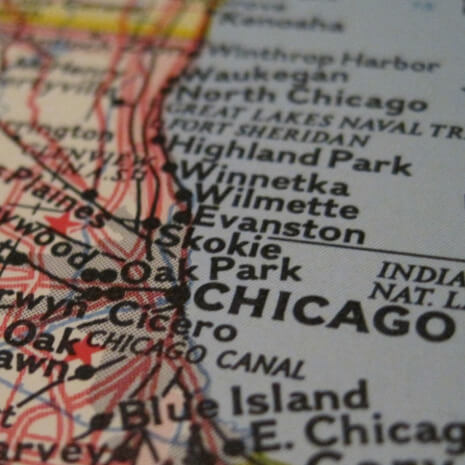 The City of Chicago, Illinois, in the midwestern United States is the county seat of Cook County. The Chicago metropolitan area, often referred to as Chicagoland is an international hub for finance, commerce, industry, technology, telecommunications, and transportation.
One of the top visited cities in the nation, Chicago hosts over 50 million domestic and international visitors annually. With over 11 million domestic business travelers and more than 1 million overseas visitors, the city is the United States' third-largest trade show, exhibition, conference and convention destination.
Most trade fairs and trade expositions are held at McCormick Place, located along Lake Michigan, just south of downtown Chicago. Consisting of four interconnected buildings, offering 2.6 million square feet of exhibition space and 173 meeting rooms, McCormick Place is the largest exhibition, conference and convention center in North America. Each year McCormick Place hosts numerous trade shows, trade fairs, trade exhibitions, trade expositions, conferences, conventions and meetings.