Chicago Close-Up Magician
Enchanting Close-up Magician for Private Parties, Public Events
If you need a professional conjurer who performs "up close and personal" magical illusions, then the
Close-up Magic
of Fabjance is the perfect choice. This party entertainment service, also known as
Strolling Magic
,
Mingle Magic
or
Table Magic
, is one in which the magician performs spellbinding magic up close to the audience.
Fabjance is a experienced party illusionist who provides
Close-up Magic
for local Chicago area events. With over three decades of experience as a Magician, and a background in Theater and Comedy Improvisation, think of him a combination of Penn & Teller, Jim Carrey and Steve Martin.
He is a highly skilled and sociable sorcerer whose performances are a blend of charm, tasteful humor and impressive magic. His skillful sleight of hand, baffling card tricks, interactive magic with borrowed objects, mind-boggling mentalism and other seemingly impossible feats, will have your guests laughing and amazed!
Chicago Close-up Conjuring Entertainment Options
offer a variety of ways to add magic to your event.


All Chicago Area Close-up Magician Performances Contain:
♠️ Impressive Magic & Illusion
performed right before your very eyes!
♣️ Astonishing Mind-Reading
to mystify and delight your guests!
♦️ Fun and Entertaining Interaction
with your party guests direct involvement, everyone gets in on the fun!
♥️ Witty and Delightful Humor
creating a fun and festive party atmosphere!
Mind-Boggling Magic and Mind-Reading Performed Up Close:
Conjuring Skilled Sleight-of-hand with a Dash of Comedy and Lots of Audience Involvement
THE INVISIBLE CARD TRICK
An interactive exercise in comedy mentalism that is as amazing as it is funny!
The close-up magician asks a party guest to shuffle an "invisible", imaginary deck of playing cards! The guest is then asked to "pick any card" from this invisible deck, memorize it, and then return the card, face-down, into the face-up deck. So now, the guest's chosen card will be the only one going the wrong way in the imaginary deck of cards. Now for the magic, the deck of cards turns from invisible to visible. The magical miracle worker asks the guest to name out loud the card they chose. The now visible deck is spread out to reveal one face-down card in the face-up deck. When the card is turned over, it is the guest's freely selected card!
FLIGHT OF THE FINGER RING
The close-up conjurer borrows a finger ring from a party guest and places it in his closed fist. The magician then asks the guest to hold his fist with his/her hands. When the magician's hand is opened, their ring has vanished! The close-up magician explains that the guest shouldn't worry . . . last time this happened, he found the ring out in his car. The trickster reaches around to his back pocket and bring out his car keys. Clipped to his key case, amongst all of his keys, is the guest's ring!
MISLEADING LEAD
A $100 bill and is borrowed from a party guest. The close-up conjurer proceeds to use a pencil to pierce a hole in the center of the bill. Everyone gasps (especially the bill's owner) at what happens next... the trickster apparently rips the pencil through the bill. Everyone clearly sees the pencil rip through it. And they can hear the sound of paper ripping! Yet, somehow the bill is left completely unharmed! The magician offer to repeat the effect, this time the pencil mysteriously melts through the bill in slow motion. It looks unbelievable! The bill is then returned to it's owner, unharmed!
THE CLASSIC "CUP & BALL"
A classic of close up conjuring with a modern twist.
A miniature tennis ball is placed beneath a cup, it disappears, reappears, shows up in the magician's pocket, back under the cup . . . and finally turns into a full-sized tennis ball, which appears under the cup! It is quickly followed by a SECOND full-sized tennis ball!
FIBER OPTICS
An amazingly beautiful close-up illusion!
A length of thread is broken into numerous short pieces. The pieces are rolled into a tight little ball. When the ball is unraveled, the thread is magically restored into one piece!
4K TELL-A-VISION
An amazing (and amusing) mind-reading effect performed up close, and very personal!
The magician hands a party guest a cube and a small box. On each of the cube's six sides is a different color. While the magician's back is turned, the guest selects one color, and places the cube into the box. The lid is placed onto the box so that no one can see the cube or the selected color. After administering a brief and humorous personality test, the magician is able to accurately discern the selected color!
HOLEY MOLEY
This is one of Fabjance's all-time favorite close-up magic routines! The holes on two ordinary metal washers vanish, appear and multiply in your guest's hands! At the end of this unbelievable magic effect, both washers can be closely examined! An impressive combination of sleight-of-hand and very clever conjuring!
SLEIGHT OF HAND?
An OUTLANDISH miniature illusion!
A party guest's hand is visibly removed from the end of his arm!
CLIENTS




Fabjance's performs close-up magic for such notable clients as the Art institute of Chicago, the Chicago Bulls, the Chicago Symphony Orchestra, and more!

He has performed up-close magic performances for major corporations and small businesses, neighborhood associations and national organizations, local schools and international universities, and city festivals and county fairs.

Fabjance performs live magic regularly at venues in Chicago and the suburbs, and travels extensively throughout the area entertaining audiences large and small from formal sit-down close-up parlor magic shows, to table-side banquet performances, to mix-and-mingle close-up cocktail hour performances, to something special just for kids.
MORE CLIENTS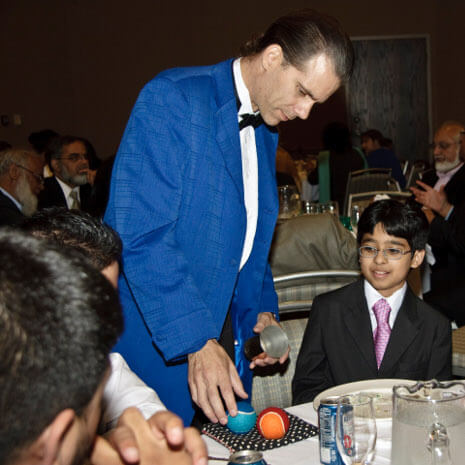 Secrets to Successful Chicago Close-up Magic Performance
Close-up Magic
's greatest strength is it's versatility. While a close-up performance does not require a stage, special lighting or sound system, some consideration should be given to performance conditions to ensure it's success at your event.
Music, Music, Music or "Can You Hear Me Now!"
While LIGHT background music is fine, magical entertainment should not be planned for the same time as a live band or DJ will be playing LOUD music. Your close-up magician and sociable sorcerer will have difficulty interacting with guests if he cannot be heard.
Don't Turn Out the Lights
Close-up Magic cannot be performed in darkness, or near darkness: lit only with random flashing lights, or the flame of the Tiki torch.
Timing is Everything
While the atmosphere is relaxed and the focus is on people interacting and chatting, the time is right for Close-up Magic entertainment.
Guest Arrival & Cocktail Hour
Typically, a client will schedule a Chicago close-up magician to perform early on in the event, as guests arrive. In this way, your charming conjurer can help welcome your guests and ensure that they start having fun right away. If a cocktail hour is planned as a part of your event, this is typically when the close-up magician will perform.
Meal Service & Magic DO NOT MIX
Magical entertainment of any kind should not be scheduled during a meal. Allow your guests to enjoy their food. Do Not make your entertainer compete for your guest's attention with the meal service.
Everybody Dance Now?
At the point in a party when the music gets turned up LOUD and people start dancing is not the best time to have your magician performing. It is usually the time for your close up magician to make his leave.
Bringing Close-up Conjuring to a Venue Near You
throughout Chicago, IL and the greater metropolitan area